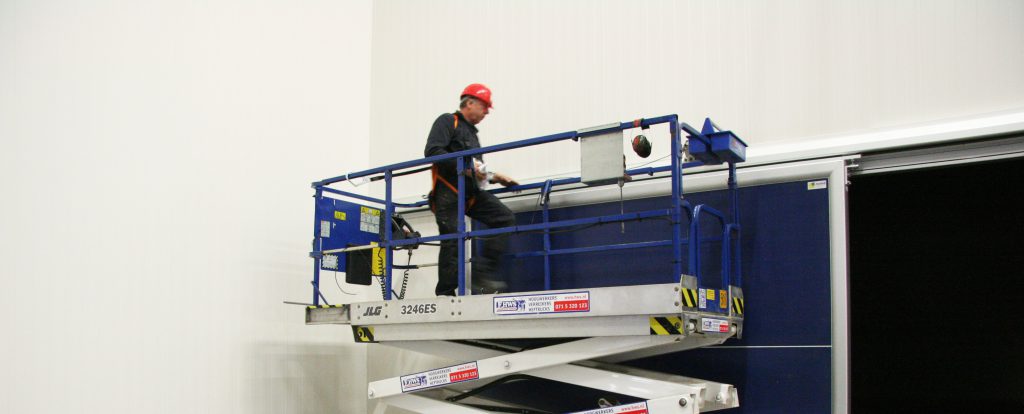 Service
Maintenance, repairs of insulated hinged, sliding and lifting doors
Insulated doors are frequently used essential links to ensure the continuity of an uninterrupted production process. Failure to refrigeration doors in addition to unexpected delay in the process also causes loss of generated energy. Moreover, you have a legal responsibility for fire-resistant doors, sliding, overhead and hinged doors. If these industrial doors are subject to negligence or faults, the damage only increases. Preventive maintenance can reduce breakdowns and wear and tear. The return on your investment lasts longer. The production process can continue uninterrupted.
Coldstore freezer door Service Department
Our Service Team supports you in the maintenance and repair of damage to doors. The professional service technicians have an average of 16 years of experience. One of their specialisations is working on parts that are subject to wear for the various types of industrial doors and hatches. You can also contact our Service Team for maintenance on refrigerator and freezer sliding doors of other brands.
Our service coordinators Guido and Ruud are happy to assist and advise you, and can be contacted on working days from 7.30 AM to 4.45 PM on:
Call us directly : +31162583221
Highly versatile
Has your coldstore or freezer door been damaged? Or a malfunction in the automatic door control of insulated sliding or vertical lift doors? Would you like to arrange one-time door maintenance or renovation for your coldstorage , freezer doors or walls? You can rely on our own and experienced Service Department. Ready with customised solutions and a wide knowledge of door technology:
Replacement or repositioning doors

Installation of new or used doors

Repair of insulated walls

Sheet metal repair for walls and facades

Repair of cold store doorframes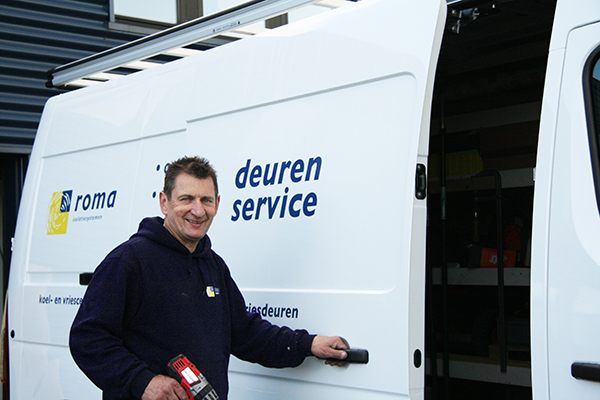 Replacements of door components and parts
To order all original parts for insulated industrial hinged, sliding or lifting doors, we manage an extensive in-house stock range from which we can deliver parts to you fast.
Call us directly : +31162583221
Service and maintenance contract
Insulated door service and maintenance contract
Regularly preventive maintenance at the workplace is legally prescribed. This also extends the service life of your colstore freezer doors and other insulated industrial doors.
With scheduled maintenance you save unexpected repair costs in the long term. Through years of experience in coldstore freezer door service , technology and knowledge of the parts that are subject to wear and tear, we can advise you on what is necessary and when. We make agreements with you in advance on the contents and scheduling of the servicing.
Has Roma isolatiesystemen built your insulated building? With preventive maintenance, our service goes further after the completion. Based on an inventory, we offer you an entirely non-binding offer for an annual coldstore freezer door service. We use an inventory to present you an obligation-free quote for an annual servicing.
This site is registered on
wpml.org
as a development site.