Blog/News
Freezer doors in large sizes in Karachi Pakistan
Freezer doors in large sizes. This is what the BOML Container Freight Station (CFS) was looking for. We produced and installed our freezer doors with a height of no less than 6 metres in the warehouse of BOML CFS in the port of Karachi (Pakistan).
Architectenbureau Goedehuizen in Waalwijk (NL) designed this new freezer warehouse.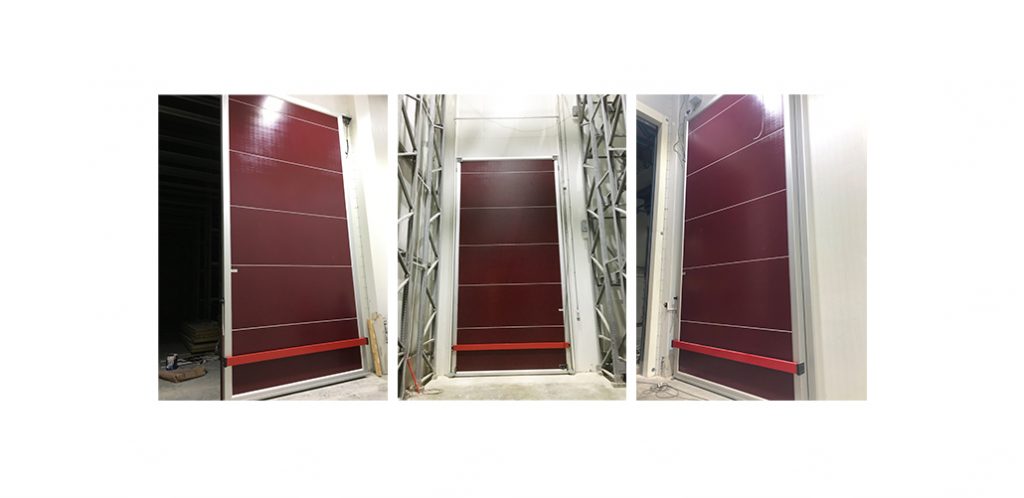 Our compliments to mechanic Swat Peeraer who successfully completed the entire operation to install these freezer doors (both sliding and lifting doors) despite all the obstacles caused by the pandemic.
Many thanks Mr. Tarek, Sheraz and all other employees of the BOML CFS for the trust and cooperation!
ROMA receives "Very Good ꙳꙳꙳" certification from BES 6001
Sandwichpanel manufacturer ROMA in Germany has received a BES 6001 certificate rating 'Very Good' from the Building Research Establishment (BRE Global Ltd.).
BES 6001, a certification method developed by BRE England, is the result of which form the basis for sustainability calculations of buildings and is recognized by various certification systems, whereby loans can be granted for construction products.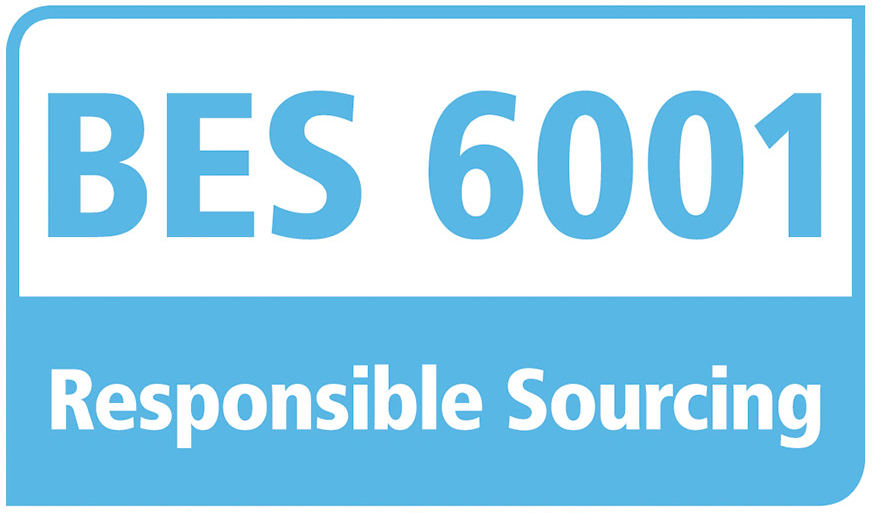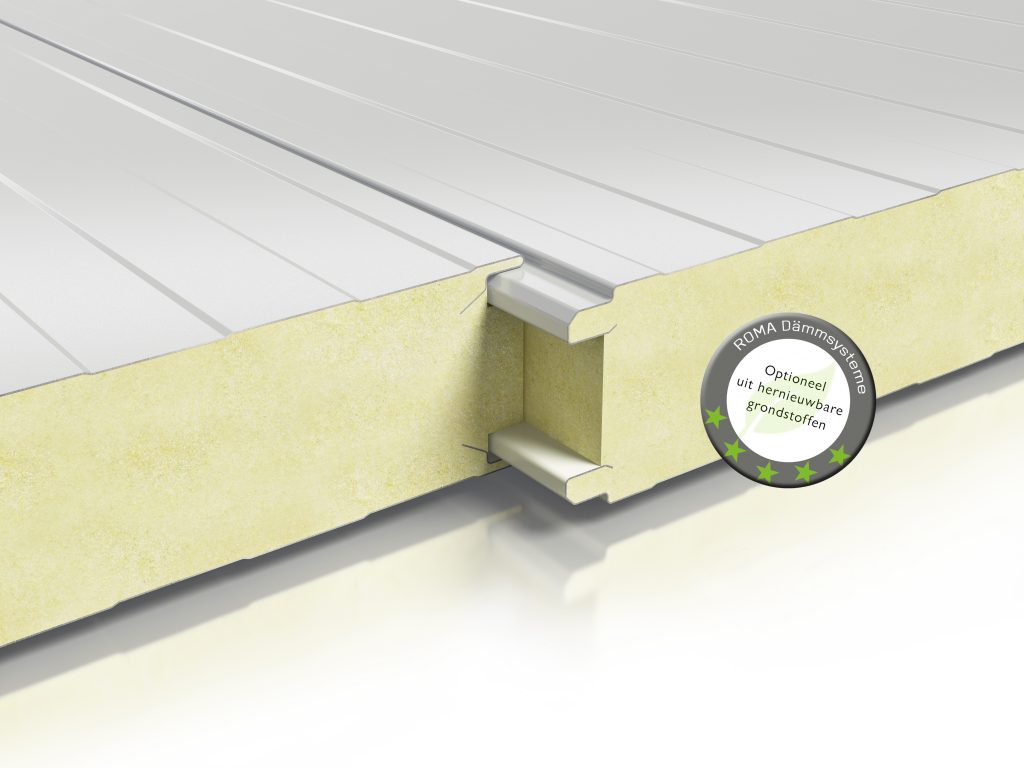 Benefits for you
BES 6001 is acknowledged by BREEAM (Building Research Establishment Environmental Assessment Method for buildings) and contributes to obtaining the BREEAM-NL quality mark for sustainable real estate in the section MAT5 (Underground origin of building materials).
With the BES 6001 'Very Good' rating for manufacturer Roma Dämmsysteme, both Roma sandwich panels with a PIR foam insulation core (types P and M) and with a non-combustible stone wool insulating core (types FP and FV) can be entered into the MAT 5 calculator with Tier level 1, giving the maximum achievable 3 points.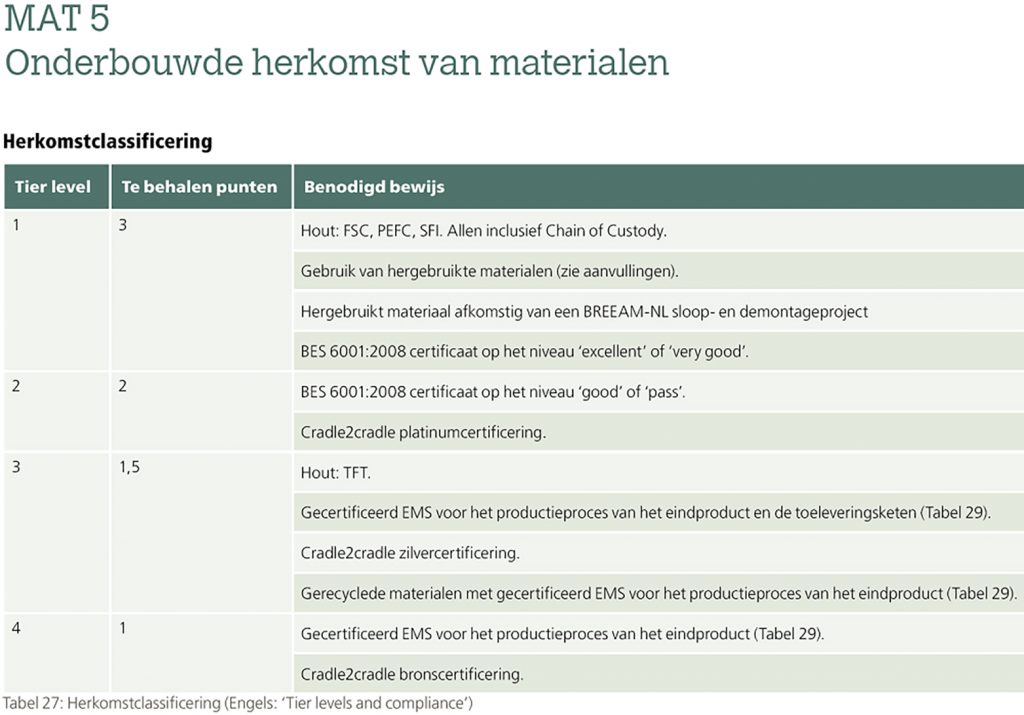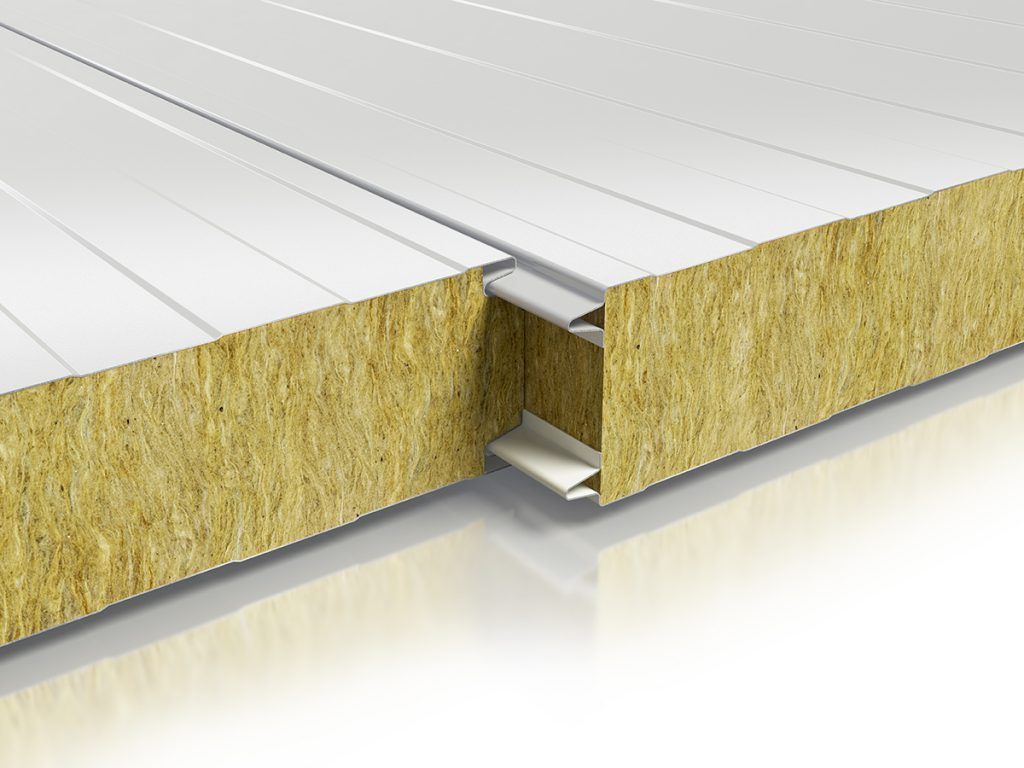 Sustainable and responsible source
The BES 6001 certificate is intended for any manufacturer producing sustainable construction products and demonstrates that the materials used in production are sourced responsibly throughout the supply chain. This gives clients the assurance that the intended sustainability of their real estate has been built using quality construction products with a substantiated origin.
The standard requires, among other things, the following characteristics of a manufacturing company: traceability of materials through the supply chain, environmental aspects such as greenhouse gas emissions and the impact of transport, social aspects such as employment, entrepreneurial skills and business ethics.
World premiere in fire resistance testing hinged doors for coldrooms and freezers
Industrial-, cold room and freezer doors fire resistant tested in sandwichpanel construction wall
Roma Products, the door division of Roma Netherlands, launched an entirely new series of hinged doors: High Care (HC). Additionally a series of fire rated hinged doors with the same appearance (HC-BW). To this end, the new coldroom and freezer hinged doors have been fire resistant tested as they actually work in practice. A test setup was built in a insulated sandwich panel construction wall including a window with fire resistant glass in the door leaf.
The manufacturer and installer of insulated doors achieved a world premiere in fire-resistant passage technology for conditioned rooms. Previously, there were no tested solutions for this.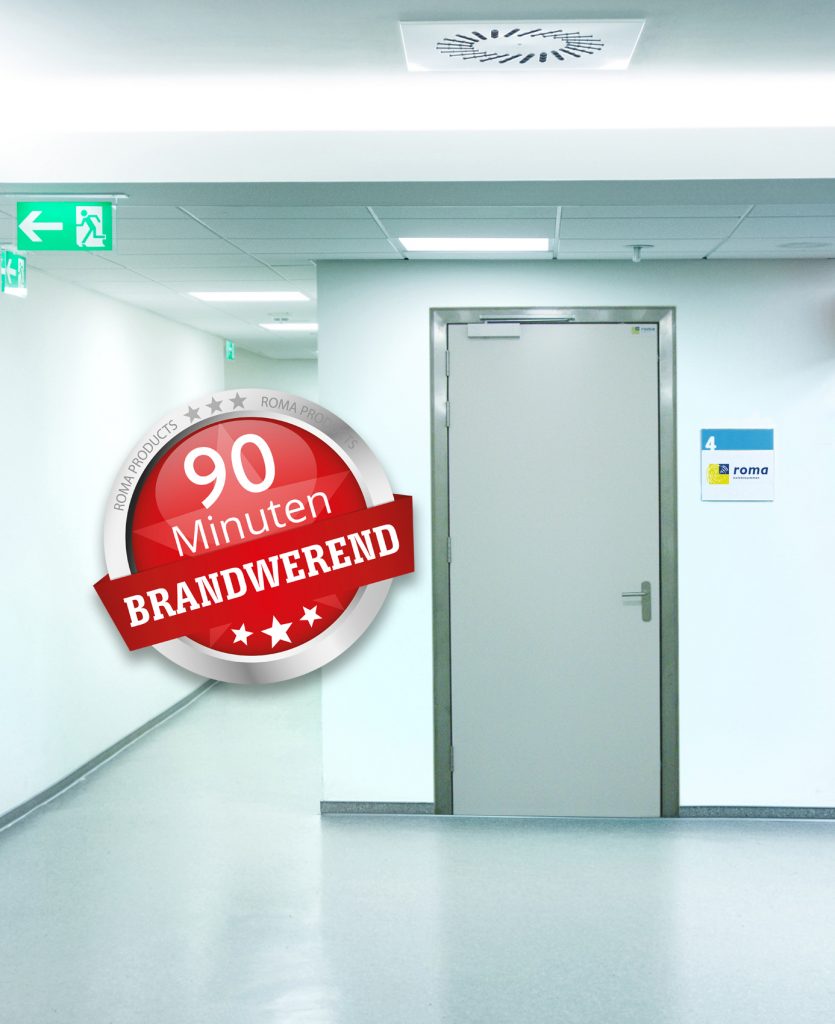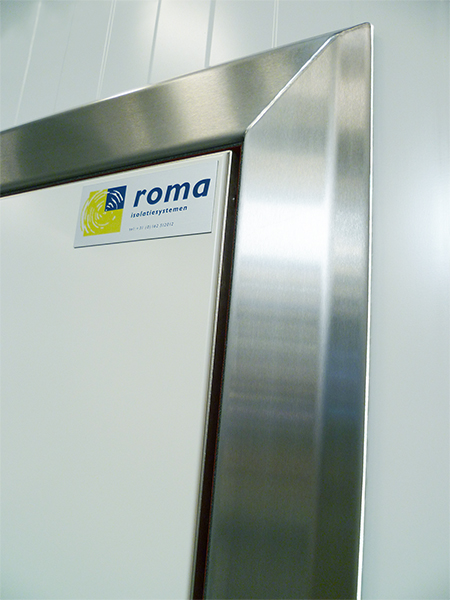 High Care
The doors are extremely suitable for heavy duty in High Care food processing and storage areas. They have been designed according to the highest hygienic guidelines. First and foremost this is shown by their robust appearance. Secondly, through the use of suitable foodsafe coatings and purely inorganic materials. Thirdly, by the stainless steel frame with beveled edge. Miter welded in the corners. Rounded shapes of parts remain free of dirt and rinse water.
Multipurpose
The doorconcept, hardware and appearance of the new fire-rated hinged doors are made suitable for application in ambient as well as cooling and freezing temperatures. Due to their specific construction they perform excellent in terms of insulation. Installation is possible for indoor and outdoor locations, in insulated sandwichpanel construction, concrete or metal stud wall.
Fire-resistance
The industrial, cold room and freezer hinged doors comply with the standards of 30, 60 or 90 minutes fire resistance in relation to the criteria of flame density (E), radiation (W) and thermal insulation (I).
Tested is a single leaf version with window in accordance with NEN-EN 1634-1:2014 and within the framework of CE marking.
New SCC* 2017/6.0 certificate received
Succesfull audit
Roma Nederland B.V. has received the new SCC* 2017/6.0 certificate from the inspecting Bureau Veritas. This certificate means a positive step in the certification process and a recognition of its change and improvement processes. Each year, Bureau Veritas audits the organization to continue to guarantee that the SCC* 2017/6.0 certificate is legally valid.
Safety should never and never be at the expense of the lowest price. Roma isolatiesystemen pursues an active policy to ensure safe behaviour and safe working practices. This may sound like a superfluous or an open door. But by continuously attention to safety, we raise awareness.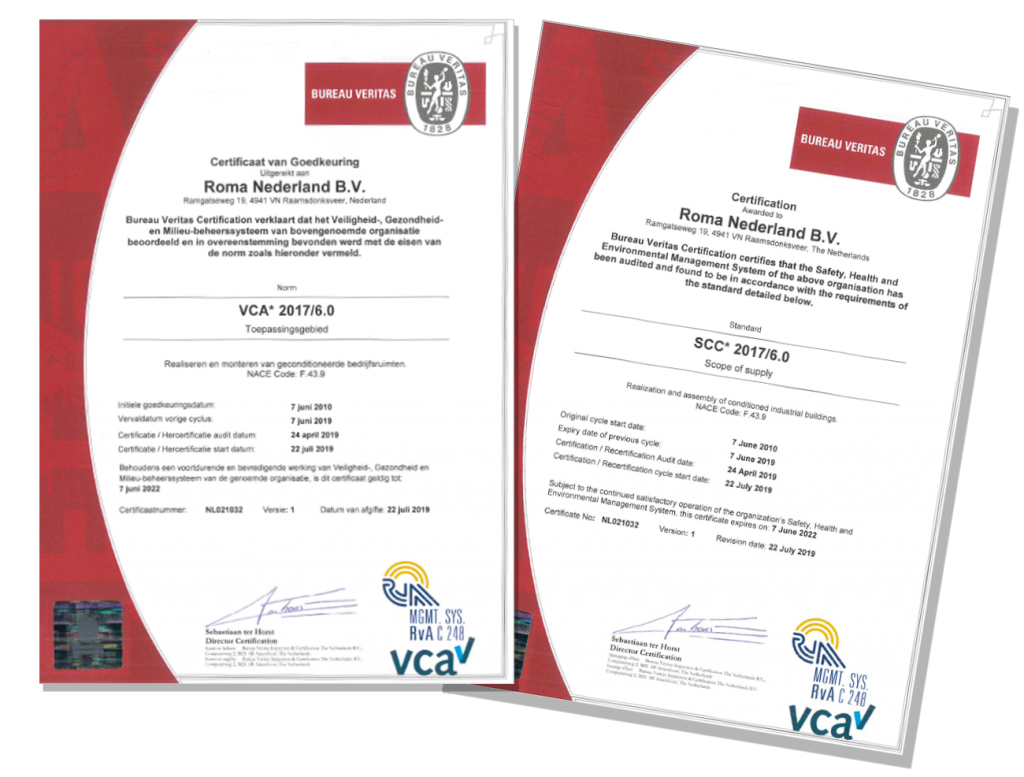 Toolbox, workplace inspection and LMRA
As part of our daily work, safety must be part of our behavioural pattern. Increase of safety awareness, reduces the number of accidents and their associated risks absence. To achieve this goal, we use a toolbox. This is a short meeting in which we use text or images to encourage people to reflect on how to act safely in the performance of their daily duties.
In addition to toolboxes, there are also regular workplace inspections, (near) accidents reports and Last Minute Risk Analyses. The latter means nothing more than that you have to constantly assess the situation/workplace for possible risks and dangers and respond to them immediately. By doing so, we are less likely to interrupt or slow down the construction project.

ROMA-insulated panels FM-4882 Approved
FM approval is granted by FM Global, a leading mutual insurance company in the Highly Protected Risk property insurance market. It offers comprehensive solutions for commercial and industrial property insurance and risk management. FM certification provides customers with the certainty that a product or service has been objectively tested and meets the highest national and international standards.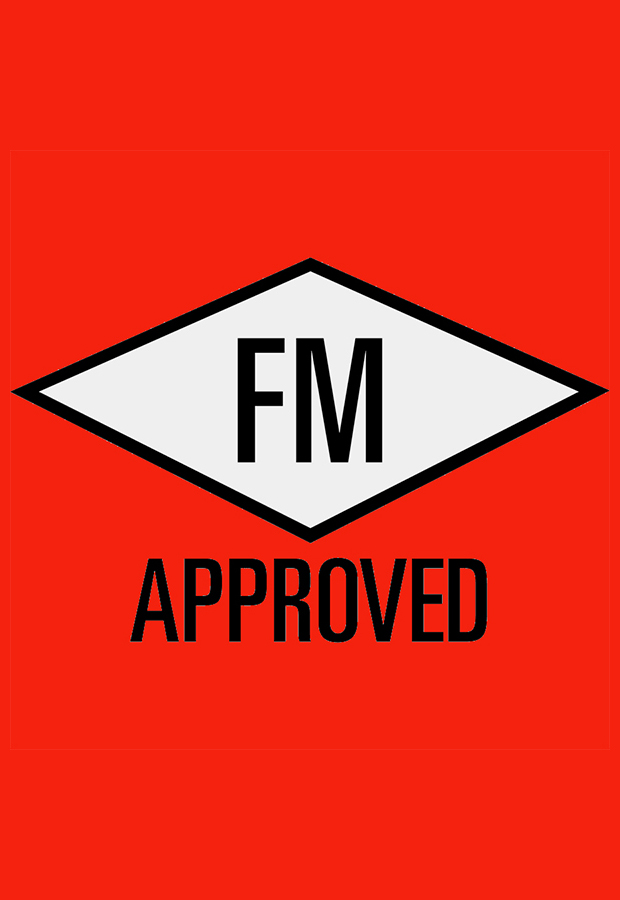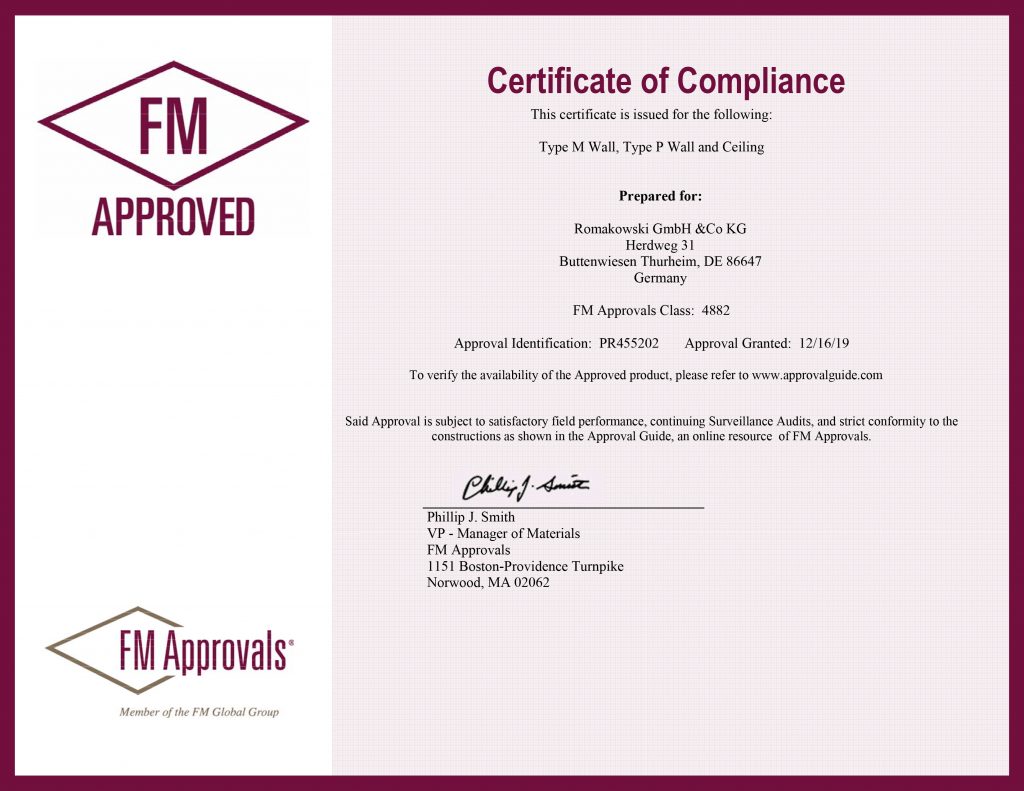 Consequences smoke development often underestimated - Reduced smoke emissions
When fires occurred, the consequences of smoke formation were often underestimated. The FM 4882 standard tests interior wall and ceiling materials or systems for smoke-sensitive applications and is designed to minimize potential safety risks and dangers in the event of an unexpected fire, in order to prevent the spread of the fire and minimize possible damage from smoke.
Comprehensive inspection and testing
To meet the FM 4882 criteria, the elements must go through tests that go far beyond the minimum requirements of ASTM E84. This process includes a detailed factory audit, during which the FM auditors check every part of the production process and the materials used. After initial on-site inspection, the panels are thoroughly tested for smoke formation and fire behavior in various test setups at the FM test center in Boston (US). ROMA undergoes regular FM follow-up audits to ensure that the products continue to meet the highest quality and safety standards.
What advantages does this offer you?
Lower levels of fire, smoke, wind and hail damage, in combination with FM 4880/4881 certifications.

Sprinkler protection can be reduced or eliminated if the layout permits.

A good basis for negotiations with various insurance companies.
This site is registered on
wpml.org
as a development site.