ULO storage for fruit and other products
The gastight building concept. What is the idea behind a ULO storage?
Creating optimum conditions in the coldstore to preserve the fruit longer, so that the consumer can enjoy fresh fruit with a great taste all year round.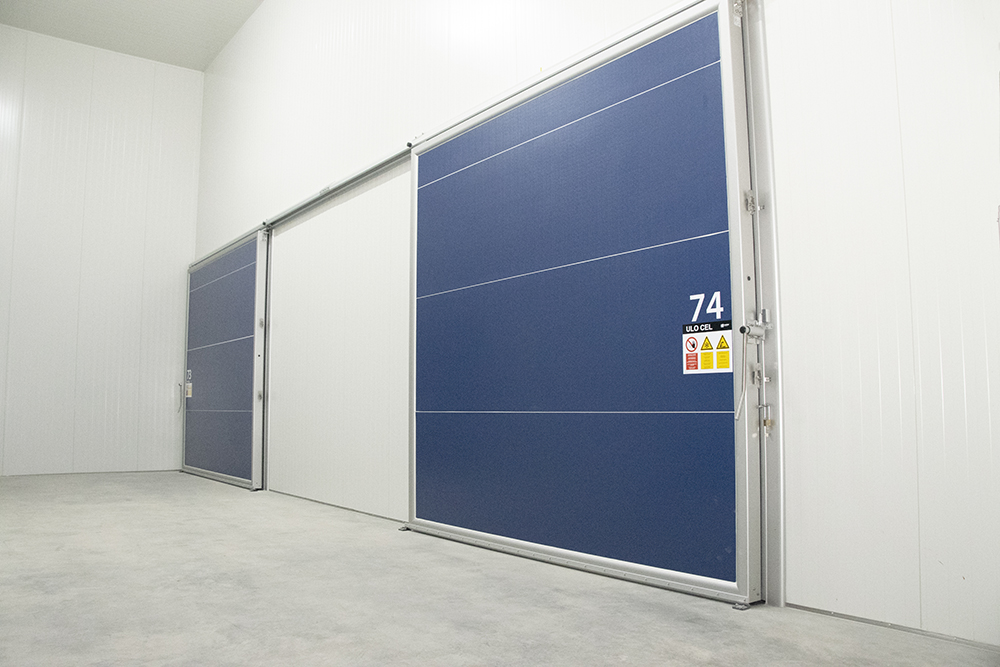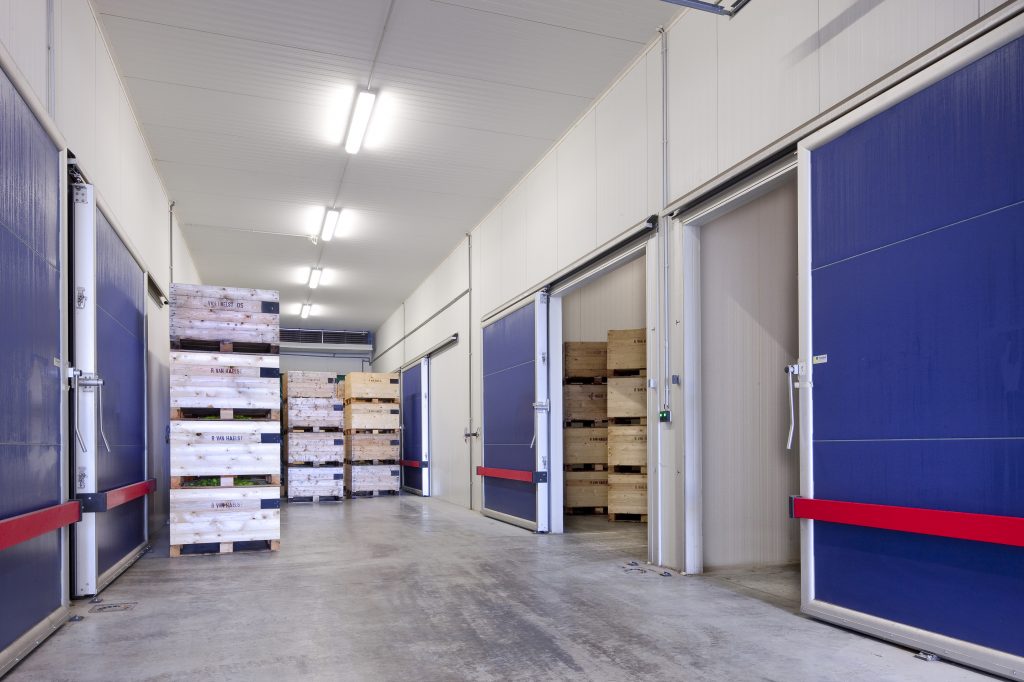 What is an Ultra Low Oxygen (ULO) cell exactly?
In simple terms, a ULO storage is a gastight coldstore constructed from high quality insulated panels. Lowering the oxygen level and raising the CO2 value is called controlled atmosphere (CA) storage. Storage at an extremely low oxygen level is called ULO storage. 
During storage, fruit 'breathes' using oxygen (O2) and producing ethyleen or carbon dioxide (CO2). The situation in the ULO cell depends on the type and variety of fruit and can be as follows:
refrigeration with temperatures ranging from -2ºC to 5ºC

reduction of the oxygen (O2) level to 1.2%

increase of the CO2 value up to a maximum of 4%

These conditions are controlled by the following process:

at least three times a week, samples of the cell air are taken using a measuring and control unit, in order to determine the respiratory quotient (RQ) and to correct the oxygen level automatically, if required.
- If the oxygen level is too low, an aeration fan switches on. If the oxygen level is too high,
CO2 is sprayed into the cell using a CO2-scrubber.
- If the CO2 level is too high, the CO2 scrubber is activated which removes it from the air in the cold store.
After the harvesting, it is recommended that fruit is stored at high relative humidity of 90-95%, in order to limit dehydration as much as possible. The entire process ensures that the respiratory process of the fruit is slowed down. This CA or ULO storage process is also known as putting fruit to sleep.
Sleep via Controlled Atmosphere (CA) and Ultra Low Oxygen (ULO)
After fruit like apples and pears has been harvested, you can usually store it for a week. Refrigeration extends the life by a maximum of two months. If ULO and CA technology is used, we can extend it even further. It means that the fruit scarcely breathes at all, and can be stored for six to twelve months. Controlled Atmosphere (CA) allows us to raise the CO2 level if desired.
Coma via Dynamic Controlled Atmosphere (DCA)
Applying a Dynamic Controlled Atmosphere (DCA) makes it possible to keep the fruit even longer. This is achieved through continuous measurement of oxygen and CO2 values, among other things, as well as alcohol as an indicator of imminent fermentation, so that this can then be controlled automatically. Oxygen percentages of less than 1% are not uncommon. No chemical substance is used at all. Another sustainable advantage of DCA is that you can save around 20% in refrigeration costs. This is because when the apples and pears are in a 'coma', they generate less heat than when they are 'asleep'.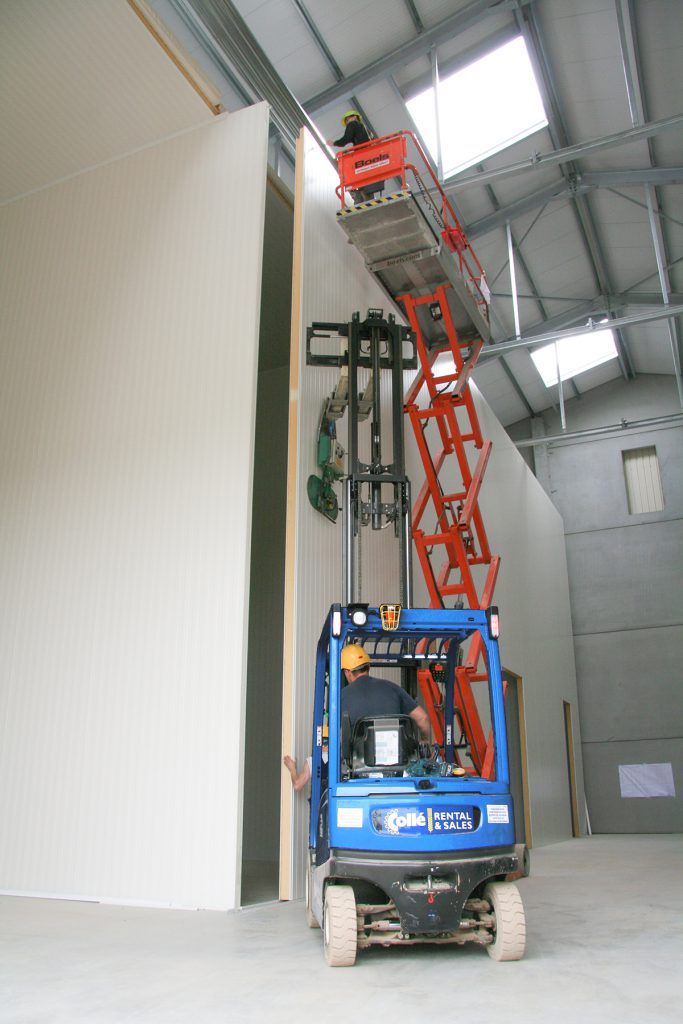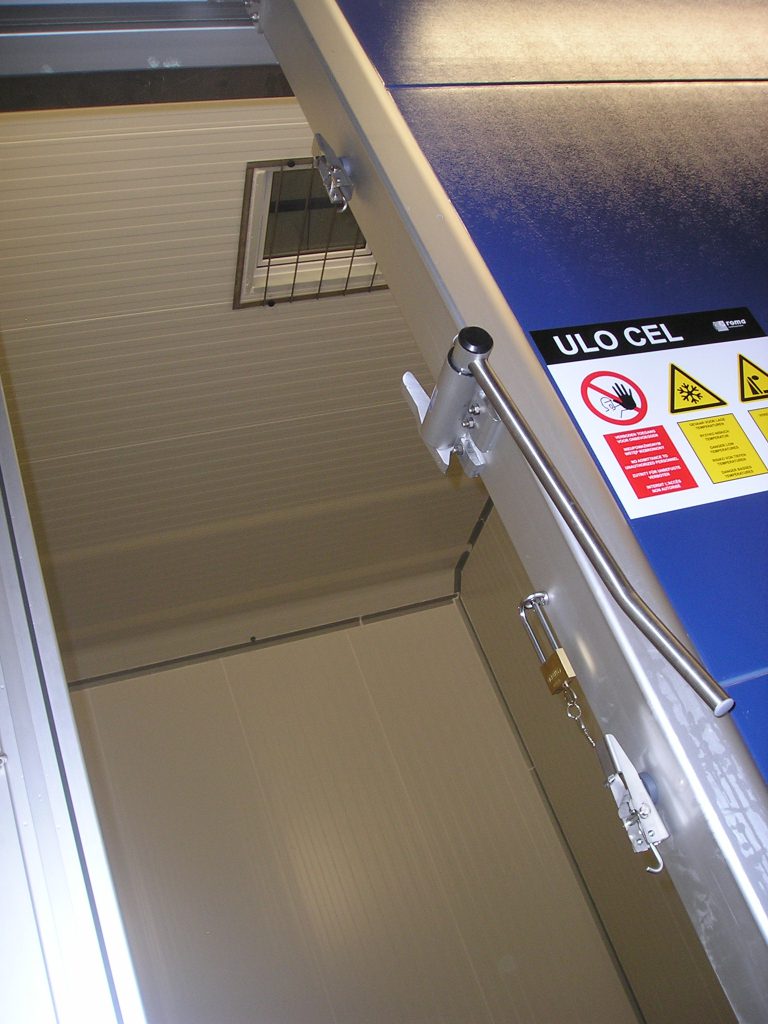 Physical dangers and safety measures for ULO cells
Dangers:

Danger of suffocation

Danger of falling from the top of the ULO cell through the inspection hatch

Safety measures:

Clear warning sticker in several languages

Light signals

Barred openings behind gastight inspection hatches

Special locks on the gastight entrance doors

The Dutch Fruit Growers Organisation (NFO) has drawn up a protocol for ULO storage and cell checks. It contains guidelines for safe working in and around ULO or CA cells, and the best way for taking samples from the cells.
Do you have renovation or building plans for a ULO cell?
The basis for optimum condition in a ULO cell is the objective of 100% gastightness of the cell. Roma Projects has developed the gastight building concept for this purpose. For applying this concept, Roma uses high quality insulated panels to build the coldstore. The precise fitting of the insulated panels and vapour-proof construction details guarantee a vapour-proof construction with optimally fitting joints. We give the coldstore a vapour-proof finish on the 'warm' outside. Careful sealing and gastight coating on the inside of the joints, profiles, ducts for pipes and finishes of the corners in walls and ceilings take care of the rest.
With tailor-made gastight sliding and vertical lift doors Roma Products manufactures and installs itself, you can lay out the storage room the best way possible. Inspection hatches, test tubes and lung for storage of low-oxygen air complete the gastight concept.
Before the ULO cell is put into operation, Roma measures the gas leakage rate against the standard of 0.1 cm² per 100 m³ cell volume.
This site is registered on
wpml.org
as a development site.