Gastight storage rooms Royal Fruitmasters Geldermalsen
coldstore panel construction for Ultra Low Oxygen rooms in new warehouse
In the summer of 2014, Roma built 25 gastight storage rooms for CA/ULO storage of fruit in record time in the new warehouse of the Royal Fruitmasters in Geldermalsen. The project forms part of a master plan for the expansion and revitalisation of the premises of the largest fruit growers' cooperative in the Netherlands.
Chris van Stam Bogaerds architects: ``Fruitmasters has a conglomerate of very diverse properties in Geldermalsen, which has been adapted and expanded over the years. The buildings are characterized by a wide variety of design and color scheme. Bogaerds architects have developed a concept for the exterior and interior to create an unambiguous and harmonious look for future renovations and additional new construction. The central theme is the dark skirting which is marked on a number of interesting and functional points with the signature of buildings and advertisements of Fruitmasters. ``
Master plan
The plan has been developed by Van Vliet Construction Management with a view to the long term. This included the conversion of the refrigeration systems to a different refrigerant and maintenance of buildings. On behalf of Van Vliet Bouwmanagement, Aris Bulk oversaw the project and tells about the first stage: 'The replacement new development of refrigerated warehouse 3-4 involved the partial demolition of the existing refrigerated warehouse and the new construction of 25 ULO cells and renovation of a number of old gastight storage rooms.'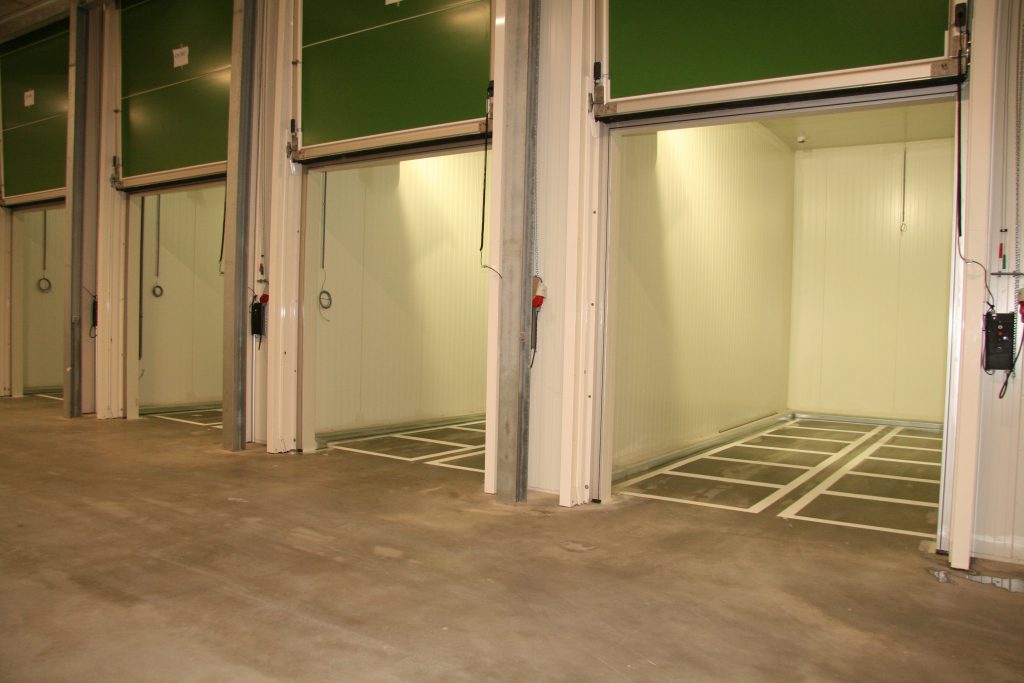 Critical factor
Roma is no stranger to the area of fruit auction in the Betuwe region, for which it built structures as long as thirty years ago. Aris Bulk: 'We have faith in the insulation connection details. You don't see them visibly, but they are the critical factor in the construction of the gastight storage rooms. After all, you want to eliminate risk and guarantee high quality of fruit preservation in the long term.
Everything from the one company
Gastight vertical sliding doors from Roma Products have been installed in the new CA/ULO-cells as well as in the renovated gastight rooms. Aris Bulk: 'We want to keep it with one company: the walls and the doors. That way you can avoid discussions about responsibility if there are complaints about the gastightness. Besides, Roma doors are more user-friendly. There were some hefty discussions during the construction, but we really like working together with Roma on the projects. Roma dares to raise the bar even higher when testing the cells. There are not many companies in the Netherlands that can offer the same quality and provide solutions for problems that end up satisfying all parties involved.' The modular insulated construction of the fruit cells was ready, precisely on time, for the 2014 harvest season.
This site is registered on
wpml.org
as a development site.